Wizard Of Oz Ruby Slippers Bookmarks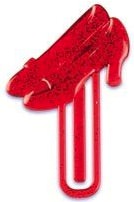 Dorothy's ruby red slippers can now mark the pages of you books as they made little bookmarks out of these shoes.
A Wizard of Oz fan will be so happy to see these red shoes that Dorothy wore in the movie.
And to make it even better these bookmarks comes in a pack of 12 so lots of books to read or a fun party favor that can even be used as a cupcake pick.
So if you like reading and the Wizard of Oz then come check out these Wizard Of Oz Ruby Red Slippers Bookmarks.