Wonder Woman Close-Up iPhone Case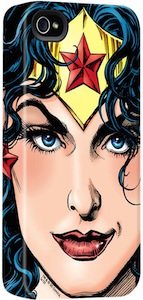 Anyone who likes superhero cartoon will love this product.
This case for the iPhone 4S and iPhone 4 has the picture on it of Wonder Woman's face all up close.
You can see all the details of this cartoon character from the black hair and red lips to the yellow head piece with the red star.
So if you iPhone does not have superhero protection then you should have a look at this case.
It is a hard case so that it will protect your phone from scraches and bumps and between the outher hardcase and the phone there is a silicone sleeve to make sure that you phone is super save from harm.
Time to show the world your new Wonder Woman iPhone 4S Case.