Woody And RC Shake 'N Go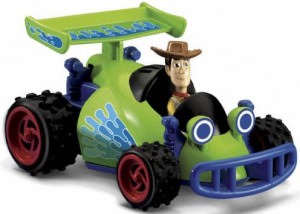 YEEHAAW!!!
Woody is not riding a horse this time, he is riding RC the cool remote control car from Disney Pixar Toy Story 3.
With all the fine details of each character you will get Woody fastened into RC both ready to race and save the day.
Shake 'N Go features are exactly how it sounds, just shake up Woody and RC then set them on the ground…..YEEHAAW!! away they go.
Remember the more you shake the further this pair will go, up to 20 feet.
Also you will hear shake activated car engine noise and phrases from the movie Toy Story 3.
Shake your Woody and RC Toy Story Shake N Go.